Interview with Mr. Manoj Desai, director of cinema multi complex Gaity-Galaxy, and cinema Marahti Mandir. Both located in Bombay
Interview takes place year Dec. 2000, in his office at Gaity-Galaxy. His office is filled with god images, especially Shirdi Sai Baba, the original Sai Baba, who is also everywhere embellishing his cinemaes. After offering chay Mr. Desai kicks off with a loud Rolling! Action!!!
Mr. Desai:
We are running 11 pictures and 28 shows pr. day, with a lot of efford from my staff, my colleages
I have another picture of my life, I am the producer of a very well known film Ghuda Gawah, with Amitabh Bachchan and Sri Devi. It was released in 1992, it was a great succes because of the costume drama, and it was based on Afghanistan, we shot in Afghanistan, we has a lot of efford in that film.
After that film I was busy to make this multiplex, and I made this multiplex just last year, I have just completed.. I am looking now for going into the movies somewhere in 2001.. producing films.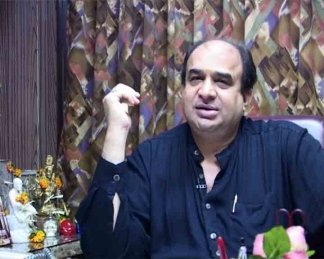 How is life as a cinema owner?
Being a cinema owner, I am proud of myself as it is my industry who has given us such a nice culture. Itís a visa versa tradition.. whatever you see in the society it reflects to the movie and whatever reflects in the movie that goes to the society..itís in circle, and we complete the circle.. and Iím proud to say that we have a lot of films on our Indian culture, very succesfully run, for many many years..like Aurat by Mehboob Khan. After that it was remade again by the name Mother India, (also by Mehboob Khan. Helle)legend Nargis was there. After Mother India we got another very very god film, and a very very great periode for making, and that was Mughal e Azam, by K Asif. After Mughal e Azam we had a lot of films like that on our Indian culture.. going on, going on, going on, til today.
I have a film running in my Maratha Mandir for last four years. The films name is Dilwale Dulhanie Lee Jayenge.. that is DDLJ, so I am proud of that kind of films which goes with our Indian culture and our tradition.. we had a very good film like Kuch Kuch Hota Hai , and a very good film which at present I am running, Mohabbatein.
We has a family film culture film, meanwhile we also had film with the access for the masses. Masses means factory workers, mill workers, ordinary workers who work on the road, work for 12-15 hours, very hard working with their perspirations.. for them also we had a very nice movie like Sholay, it was a film for the masses, and we have a lot of films from my uncle Manhohan Desai.. like Amar Akbar Anthony, Naseeb, Coolie. There are the film were hero is shown.. like in Deewar, Yash Chopraís.. where the hero is shown like a common man.. and when common man travels with the heros character, the film becomes a super duper hit.. and it went like that.. and a character came out of this film.. that was Amitabh Bachchan, who became a person for the public, to the public, from the public.
Somebody are coming. Mr. Desai looks to the door and calls out, and then goes on to me

Mr. Desai:
He is the biggest personally of our Hindi screen

The actor comes in.. halloes are said and introductions
Mr. Desai:
Prem Chopra
A Hindi conversation takes place. They set their matters, he leaves and Mr. Desai goes on with great warmth

Mr. Desai:
He is one of the villains with substance for the last twenty years. People want to spit on his face, he is such a good actor, he is such a good villain that people hate him. His name is Prem Chopra..
Helle:
Poor man

Mr. Desai:
very good man, by heart

Times changes, periods changes, culture changes. Generations changes. There was a time when hero used to sing himself, then the time came with the play back singer.. there was a time when there was a seperate cabarat dancer like Helen in our Bollywood. Now heroine dances like a cabaret dancer. There are no seperate cabarat dancer, because now things are changing because the new generatioens want less clothes on the face, more appearance on the body. I donít know what is the reason behind.. there was a sex appeal with our old heroines like Madhubala, Meena Kumari, Nutan.. they used to remain the full wearing of saries and blouse and they had more sex appeal than todays heroines who opens out everything.. see, beauty is to see not to touch, that is, you know, the principle of our culture, but I donít think everybody believes in that.. now a day the trend has changedÖ less cloches, more exposure and more songs.. in a big way.. the tradition has become like that.. all songs in Scwitzerland, Holland
Helle:
Not all of them, thatís not fair

Desai:
no not fair, but we has lots of places in India, thatís a beautiful place.. in Himachal Pradesh, Simla, Kashmir..a lot of places.. in Kerala, Kochin.
Helle:
they are used as well in songs, I see it.

Desai:
but to shoot out of India has become a fashion.. you shall have at least to, three songs shot in foreign countries.. fine, anyway itís a requirement of todays generation. Time has been changed day to day, and same way the picture also goes.. change.. there was a tradition of actions film. Then family film, then action film.. now time has come where action and family film are going together.. they are travelling together.. for example Mohabbetein is totally family, Mission Kashmir is totally action.. so time has come like this

According to new revulotion in sound we have a new revolution in pictues.. our quality, our shooting, our camera has taken a very good place.. we have a lot of advancing in tecnology aspect.. a person like Subash Gai, Yash Chopra.. a person like Adit Chopra, Karan Johar... they have already started a new revolution.. what ever film quality you see now is much much better that what you had in the past.. no doubht Mughal e Azam was also tecnically very rich.. Parkeeza was very rich.. but if these same persons had remained in this age, they might have done much more tecnically, because now we are tecnically very very rich.. I can just tell that statement to you, that today Bollywood has become very near to Hollywood tecnically.. and I am sure that in a couple of years we will be very near.. very very very near to Hollywood.
Helle:
I think you are better than Hollywood

Mr. Desai:
Thank you very much Maam, I appreciate it, that you thought us..

Helle:
Because you have much more fantasy than Hollywood has, I think it is much more elegant
Desai:
I tell you, I appreciate all Hollywood films, but one thing is certain.. we have a soul in our picture, we put our heart.. whatever we put we put from the bottom of our heart.. I donít say that such emotional film is not there (Hollywood)... there is a film like Stepmom, very emotional film of Hollywood, even I cried in that film..there are persons whore are making touchy films in Hollywood, but we are more touchy because our culture touch every day, day to day.. our culture speaks that it is not easy a girl to roam with one person one day and second person a second day, third person a third day.. itís not allowed.. itís not allowed in our culture.. our culture says that you can go around as a friend, but donít give yourself totally to the opposite sex, because you have only one honour with you as far as a woman is concerned... and that is the character.. a characterless woman is not concidered a good woman in our society, in our culture.. and you see the reflections of that always come in a movie.
I dont know about my colleages but as far as myself is concerned I am a very spiritual manÖ you can se my office. I am a godfearing man.. I believe in god.. I believe in a power which I have not seen but he or she is there, protecting us from all bad things.. and I think twice before doing anything bad.. believe mee, I stayed at such a place, where anybody else will not stay, but where there is a reason to stay.. I stayed in a middle class society.. there is a cremation place. Everyday when I go I see a person died and taken in.. and one day I have to go there.. so I think twice before I do anything bad to anyone.Try your best that you donít do anything bad to anyone.. in you knowledge or unknowledge. If you do, then god bless us
But in the same way our Indian culture and our Indian cinema goes. They (film makes) try their best to show all good good good things.. but it is very essencial to show bad bad bad things, like a rape of a 14 years girl, 10 years girls.. you would say, is it possible here.. it is possible. Our culture has so much changed, our sex has so much changed.. a man - you would think that the girl is like a daughter to him - he takes advantage of that girl, or that girl is poor, he pays the money, and he plays with such a young girl of 12 years old, 10 years old.. and it is shamefull events in our society.. which we narrate in our pictures.
Helle:
You do a lot

Mr. Desai:
We do a lot. Prem Chopra is playing such a character but he is a nice man, but he is playing such character, so what I want to say is that we have to sides to show in our Bollywood films, one, our good culture, one, our bad culture, and this is the way we balance our society as well as our picture, and people appreciate it.
Can you explain to me Sir, why we are not allowed to shoot on the sets, go into the sets
Very good question, very good question Maam, and I am very sorry on behalf of my all colleages producers.. why they are doing like this I donít know, but maybe I think that what they must be thinking is this.. that they want to keep privacy of their sets, privacy of the particular sequense which they are going to shoot with the hero and the heroine.. and the reason not to call you on the sets is that they got a very bad experience.. sometimes you people shoot, you sell it of to any of the channels... I know you donít do, please donít take it on you.. there are some people, those who come here and say, we want to make a documentary.. and they sell it of to any channel, so they show the making of x, the making of y, the making of z, and the producer gets upset.. so you know ultemately the good people are also being blamed because of the bad peopleÖ so you also come among them, that must be the reason.
When you burn your tongue from hot water, you will think twice about drinking hot water again.