Interview with Indu Mirani, film journalist
Indu Mirani is familiar to any aspect of the Hindi film and other Indian cinema.
I meet her and we talk.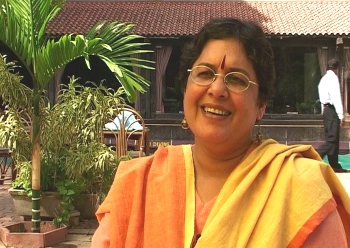 Indu Mirani:



The filmindustry in India mirrors the expressive society that India is. In India there are songs for all occations – for the first meal, for the birth of a baby, for all kinds of parties, wedding etc. There is music and dance for all situations. India is an expressive country and the Hindi films reflects that

.


Everything in Hindi film is Larger than Life. We are expressive in any relation which is reflected in Hindi film.
Poverty is everyday life for a huge part of the Indian population. It is a hard country to live in for a lot of people. When they go to the cinema they do not want to see reality and what they live in every day.
For three hours they want to imagine that 'this is me fighting against the establishment'. There is a lot of escapism. For three hours they are moved away from the misery of his own life
The pink and blue colors that he not gets to see very often in his own life
There is always a male hero. He is a hero because he always have to safe something – either the society or the heroine. In the classic films the hero gets the heroine.
The hero has to go through so much trauma and problems. When he finally succeeds the feelings are Larger than Life. And everything is expressed Larger than Life.
Photographers and everybody else work Larger than Life.

No heroine can sell tickets.
The man must be the one who is taking care of things in the film.



We do make realistic cinema but that is film for at very different audience than the Hindi film.
The masses wants to get away. And they need to go and see the film again and again since the budget is so big. The film needs to be liked by the masses.
The audience learn a lot from tv. They do not want formula film as they used to. There needs to be a story and a reason for the development of the film. The traditional Hindi film with big budgets and big stars, songs and dance will still be there – but there will always be a reason for sing or dance. And it was not always like that.
There is a development towards smaller budgets and other films, but it has to be either the big and traditional Hindi film or the art movie. No film in between can make in the cinemas.
The songs has to come out of the story. There is an educated audience who demands more story and justified dancing and singing.
There are three things that Indians are passionate about: Religion, stars and cricket. And if you are able to combine these factors you'll have a success. The stars are studied and copied. They are some sort of role models.
Amitab (Bachchan) was ill and people walked 500 km backwards and said prayers for him to his cure.
There are no kisses and no sex, but still very sensual. The graceful coreography is very sensual and there are many ways to express the sensuality: the girl can wear white and go under water, which makes her body very visible. And you can make the hero and heroine come very close without touching – and still implying things. There are ways to make the hair cover the heroines face etc.
There is a very rigid code of cencorship in India, but the Hindi film has developed a language that bypass that code and still express the sensuality. There will never be explicit sex scenes since it is against our culture and heritage. But still the dances and the songs are ways to come around that.
It is very attractive and the audience uses his imagination and experience his impressions individually. That makes an interactive audience. He can dream of his girlfriend – or the girl he is in love with. If that guy on the screen can get that girl – so can I!
The girl looses her attraction because you can no longer dream of her when she is married or when she gets a boy friend, even though a man can be both husband, father or grand father. That's why the actresses marry secretly and can never talk about their husbands or boy friends. He will always be a secret part of her life. She lives a life on lies – a dobbelt life.
Off course this can only go on for a while - to extent her carrier.
Actresses are ruled by other things than the atcors. She might be able to lie about her marriage – and deny it. But as soon as she gets pregnant her carrier is over. It is even worse to get pregnant outside marriage than to be married. She can be ever so talented – as soon as she is involved – her carrier goes no further.
Girls has to become far more independent.